FOR IMMEDIATE RELEASE
For media inquiries contact Bill Zachary (917) 733-3038
W Ketchup Calls on Congress to Restrain the TSA
Eagle Bridge, NY — November 22, 2010 — The Book of Genesis, the creation story of four billion people, begins with Adam and Eve in paradise, naked, and unashamed. Their first self-knowing act, after eating from the tree of knowledge, is to clothe themselves.

In 2009, the Federal Transportation Security Administration deployed radiation scanners that allow government security personnel to see through travelers' clothes, revealing their nakedness. Federal officials admit that the machines store and transmit the images. In February, naked pictures of Indian film star Shahrukh Khan were printed out and circulated by airport staff.

Dan Oliver, CEO of W Ketchup, noted: "It is standard procedure for criminals to be strip searched before admission to prison. The purpose is not merely to search for weapons and drugs, but to humiliate the prisoner by removing his socializing attributes in order to destroy his identity and make him more easily governed. These are the tactics the state is now using against ordinary citizens. It is no accident that the TSA requires subjects to lift their arms in the surrender position while in the radiation scanner."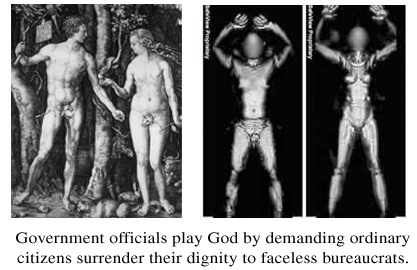 According to the Inspector General of the Office of Homeland Security: "TSA allowed some screeners to work without first completing a criminal history records check, and retained others with adverse background checks for weeks or months . . . ." In March, a TSA worker was charged with multiple child sex crimes.

New TSA procedures require screeners to touch the breasts and genitals of all passengers, including children, who opt of out of a radiation scan. The TSA does not use profiling to avoid abusing those travelers who pose no threat.

Oliver added: "All tyrannical governments use the criminal element to enforce order – moral actors would not obey their commands. Americans should heed the warning of Hungarian author Melchior Palyi: 'where the Welfare State is on the march, the Police State is not far behind.' With the government already in control of the economy, the naked scanners are a harbinger of the second phase."

The TSA radiation scanners are sold by OSI Systems, Inc., which has government contracts totaling hundreds of millions of dollars. They are marketed by Michael Chertoff, former Homeland Security Czar. Convicted insider-trader and left-wing agitator George Soros divested his ownership stake in OSI shortly after the controversy broke. Earlier this month, the CEO of OSI sold nearly $1 million of his personal holdings of the stock to the public.

W Ketchup Chairman Bill Zachary commented: "The radiation scanners represent a confluence of big business, big government, and big finance conspiring to strip each American of his liberty and dignity. We demand the new Congress support Ron Paul in his effort to contain the TSA."

W Ketchup is shipped by truck and is never irradiated.




To order W Ketchup, please click on the link below:

To join the W Ketchup email list, please click on the link below:




Founded in 2004, W Ketchup™ is a private company that makes ketchup in America solely from ingredients grown in the USA and does not support any liberal agendas. For more information contact 1-866-WKETCHUP, or write to 954 Lexington Ave, #236, New York, NY 10021-5013.