FOR IMMEDIATE RELEASE
For media inquiries contact Bill Zachary (917) 733-3038
W Ketchup Calls on Congress to Impeach Obama
Eagle Bridge, NY — October 25, 2010 — On July 4, 1776 the Continental Congress of the United States declared independence from the British Empire and the rule of King George III. Our founding fathers charged that the King had violated certain fundamental liberties of the people. President Obama has repeated many these same violations:

1) the King had "erected a multitude of New Offices, and sent hither swarms of Officers to harass our people, and eat out their substance." According to the Congressional Research Service, Obama has created so many new agencies that the exact number is "currently unknowable." Some estimates exceed three hundred.

2) the King had: "combined with others to subject us to a jurisdiction foreign to our constitution, and unacknowledged by our laws." Obama's appointee to the Supreme Court Elena Kagan dropped the constitutional law requirement when she was Dean of Harvard Law School. Kagan added a requirement to take "International/Comparative Law." During her confirmation hearings Kagan said: "At least some members of the Court find foreign law relevant in at least some contexts."

3) the King had: "excited domestic insurrections amongst us, and has endeavoured to bring on the inhabitants of our frontiers." The Obama administration is attempting to naturalize by stealth millions of foreigners who have crossed our frontiers in violation of American law. His attorney general is currently bringing legal action against the State of Arizona, which has defied Federal rules in an attempt to stop the flood of illegal immigrants.

4) the King was: "altering fundamentally the Forms of our Governments." Obama has said: "The original Constitution is an imperfect document that reflects deep flaws in American culture," and during his campaign he told supporters: "we are five days away from fundamentally transforming America."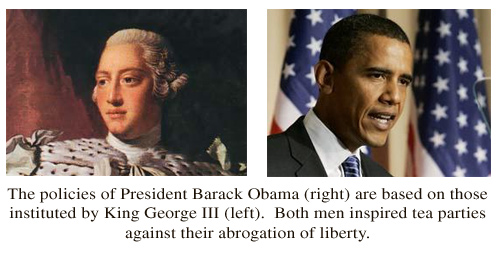 In 1998 President William Clinton was impeached for perjury under oath and obstruction of justice. Voting along partisan lines, the Senate acquitted Clinton of both charges. Clinton's defense rested not on the facts of the case, for which he was later fined and disbarred, but on the argument that impeachment was a political act and therefore should be settled by politics, not law.

Defending Clinton, White House Counsel Charles Ruff declared in his closing remarks: "There is only one question before you . . . . Would it put at risk the liberties of the people to retain the President in office? Putting aside partisan animus, if you can honestly say that it would not, that those liberties are safe in his hands, then you must vote to acquit."

Dan Oliver, CEO of W Ketchup, charged: "Clinton and the Democrats successfully redefined impeachment as a political act designed to protect the liberties of the people. It is clear that under Obama those liberties are at risk. Therefore, he should be impeached and removed from office."

W Ketchup Chairman Bill Zachary added: "We realize it's unlikely our representatives will act to remove this modern day tyrant, but Americans must use the opportunity of the upcoming elections to dilute his power and begin the restoration of American liberty."

Make W Ketchup part of your election celebration as Americans take back America.




To order W Ketchup, please click on the link below:

To join the W Ketchup email list, please click on the link below:




Founded in 2004, W Ketchup™ is a private company that makes ketchup in America solely from ingredients grown in the USA and does not support any liberal agendas. For more information contact 1-866-WKETCHUP, or write to 954 Lexington Ave, #236, New York, NY 10021-5013.