FOR IMMEDIATE RELEASE
For media inquiries contact Bill Zachary (917) 733-3038

W Ketchup Calls on Kerry to Resign
Eagle Bridge, NY — July 28, 2010 — On July 23, news surfaced that failed presidential candidate Massachusetts Senator John Kerry had purchased a $7 million yacht, the Isabel. Kerry chose to berth the Isabel in Rhode Island to avoid paying $500,000 in Massachusetts taxes. As a senator, Kerry has voted to increase taxes more than 350 times.

News reports indicate that the Isabel may have already berthed in Massachusetts, triggering the avoided taxes and making Kerry a tax cheat. When asked if this was true, a haggard looking Kerry responded: "that depends on who owned it." The Isabel was constructed in New Zealand and is technically owned by Great Point LLC, a corporate special purpose vehicle controlled by Teresa Heinz Kerry to allow the Kerrys certain tax and liability benefits. During his doomed presidential campaign, Kerry criticized American companies for using subsidiaries for tax advantage. Kerry recently stated: "It repulsed me that while the average American plays by the rules and pays taxes, some of the biggest corporations avoid paying their fair share."

Dan Oliver, CEO of W Ketchup, said: "Leona Helmsley famously said that taxes are for little people, but it's the Democratic Party that makes this statement true. Kerry's conspicuous display of consumption during a depression is distasteful, and his avoidance of the taxes that he imposes on the small people reveals deep hypocrisy. The fact that his wife ponied up after he was caught makes him even more pathetic. Kerry is a national embarrassment. He should resign."

Jane Wellehan, president of the Maine Built Boats trade group, reacted: "If someone comes to build a $7 million boat, that would employ half the population of some towns for a year or two. Boat building is such a critical component of our coastal economy." Massachusetts currently has an unemployment rate of 8.8% and a budget gap of $1 billion. Senator Kerry recently voted to extend unemployment benefits for American workers.

W Ketchup Chairman Bill Zachary commented: "Senator Kerry doesn't think American workers are good enough to build his boat and are only proficient at accepting charity. Perhaps he intends to reduce unemployment in his state by hiring stewards for his new yacht."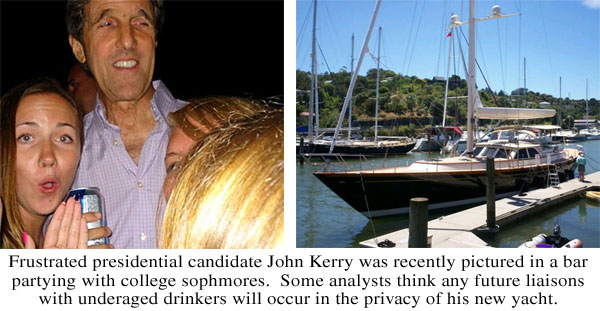 Senator Kerry obtained his first fortune by marrying heiress Julia Thorne. He had two daughters with her and later requested and received an annulment of the marriage from the Catholic Church. He then married Maria Teresa Thiersten Simoes-Ferreira Heinz, widow of Republican Senator John Heinz III, who was heir to the Heinz ketchup fortune. Plans for Teresa Heinz and John Kerry to use their yacht to visit some of the Heinz Company's 55 foreign factories could not be confirmed.

According to the Heinz Company, Ms. Heinz Kerry retains control of more than half a billion dollars of Heinz Company stock through various legal entities. Ms. Heinz Kerry uses the Heinz fortune to support liberal causes, such as ACORN and the Gay and Lesbian Victory Fund. In 2008, Heinz launched an advertisement campaign featuring two men kissing.

W Ketchup has only one factory — in America — and is the only leading ketchup brand that does not support any liberal causes. W Ketchup does not own, or control through any subsidiaries, any foreign built yachts. The only cause W Ketchup supports is a scholarship fund for the children of our soldiers killed in action, something all Americans can advocate.

To order delicious W Ketchup, please click on the link below:




Founded in 2004, W Ketchup™ is a private company that makes ketchup in America solely from ingredients grown in the USA and does not support any liberal agendas. Unlike other leading brands, W Ketchup does not own any subsidiaries that harm dolphins. For more information contact 1-866-WKETCHUP, or write to 954 Lexington Ave, #236, New York, NY 10021-5013.