FOR IMMEDIATE RELEASE
For media inquiries contact Bill Zachary (917) 733-3038

W Ketchup Toasts French President Sarkozy this Veterans Day
Eagle Bridge, NY — November 11, 2007 — Last week newly elected French President Nicolas Sarkozy visited Washington, the first official visit by a French president in six years. Before visiting Mt. Vernon, the home of George Washington, Sarkozy addressed a joint session of Congress, saying:

The men and women of my generation heard their parents talk about how in 1944, America returned to free Europe from the horrifying tyranny that threatened to enslave it. Fathers took their sons to see the vast cemeteries where, under thousands of white crosses so far from home, thousands of young American soldiers lay who had fallen not to defend their own freedom but the freedom of all others, not to defend their own families, their own homeland, but to defend humanity as a whole.
. . .
To those 20-year-old heroes who gave us everything, to the families of those who never returned, to the children who mourned fathers they barely got a chance to know, I want to express France's eternal gratitude.
The previous evening, President Sarkozy awarded the Légion díHonneur, France's highest honor, to seven World War II veterans.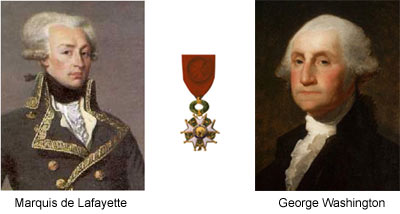 Dan Oliver, CEO of W Ketchup, commented: "At the age of 19, the Marquis de Lafayette left France to volunteer his service in the American Revolution, and became a life long friend of George Washington. Last week America witnessed a French president, walking in the spirit of Lafayette, who understands freedom, acknowledges America's sacrifices, and appreciates American exceptionalism."

On the eve of Sarkozy's visit, CBS broadcast a 60 Minutes interview between Sarkozy and Lesly Stahl. When Stahl asked about his ex-wife, Sarkozy replied, "If I had something to say about Cecilia I would certainly not say it here," took off his microphone, and left the interview. When asked why his press secretary had arranged the interview, Sarkozy responded: "He is stupid."

W Ketchup's Chairman Bill Zachary reacted: "The liberal media has made a habit of lionizing America's enemies, and degrading America's friends, turning the fourth estate into a fifth column. We wish more American politicians showed Sarkozy's dignity by refusing to submit to the humiliations and abuses of privacy of the media."

In his speech to the US Congress, Sarkozy also said:

America's strength is not only a material strength, it is first and foremost a spiritual and moral strength. . . . Fundamentally, what are those who love America asking of her, if not to remain forever true to her founding values?
W Ketchup is dedicated to supporting America's founding values and the men and women of the armed forces who protect them from foreign tyrants, especially on this Veteran's Day.

President Sarkozy returned to France to find his country paralyzed by striking trade unions and protesting university students who want less work and more entitlements. W Ketchup wishes Sarkozy Godspeed in his effort to cure France of its eurosclerosis.


W Ketchup donates a portion of every purchase to the Freedom Alliance Scholarship Fund, which helps fund college tuition for the children of America's fallen heroes.


Founded in 2004, W Ketchup™ is a private company that makes ketchup in America solely from ingredients grown in the USA and does not support any liberal agendas. Unlike other leading brands, W Ketchup does not own any subsidiaries that harm dolphins. For more information contact 1-866-WKETCHUP, or write to 954 Lexington Ave, #236, New York, NY 10021-5013.