FOR IMMEDIATE RELEASE
For media inquiries contact Bill Zachary (917) 733-3038

All the Propaganda That's Unfit to Print
Eagle Bridge, NY — September 17, 2007 — One week ago, General David Petraeus, Commanding General of the Multi-National Force in Iraq, testified before Congress on the progress in Iraq. The same day, leftist organization Moveon.org ran a full-page advertisement in the New York Times with the headline: "General Petraeus or General Betray Us?"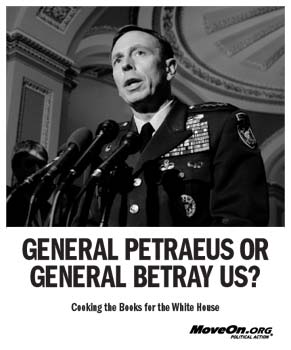 The list rate for a full-page advocacy advertisement in the New York Times is $167,157. The New York Times charged Moveon.org $64,575.

Move.org receives significant funding from billionaire George Soros, who spent millions of dollars in 2004 in a failed attempt to prevent President Bush's re-election. Soros's political action committee America Coming Together paid the third largest fine ever to the Federal Election Commission for extensive violations of the Federal Election Campaign Act. Soros was convicted of insider trading in 2002.

Dan Oliver, CEO of W Ketchup, reacted: "Democrats have long likened the Iraq War to the Vietnam War, and now they are playing their traditional role of undermining our military. Having a foreign-born, criminal billionaire fund, and the New York Times subsidize, an advertisement accusing a loyal and distinguished general of treason is the height of hypocrisy."

In 2002, Democratic presidential front-runner Hillary Clinton voted to authorize the invasion of Iraq, saying: "it is with conviction that I support this resolution as being in the best interests of our nation." After Petraeus's testimony she impinged on his integrity by saying: "The reports that you provide to us really require the willing suspension of disbelief." Clinton has refused to condemn the Moveon.org/New York Times advertisement.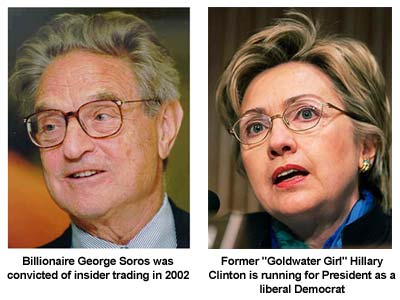 Bill Zachary, Chairman of W Ketchup, commented: "Last month House Majority Whip James Clyburn commented that positive developments in Iraq would be 'a real big problem for us,' demonstrating the vested interest the Democratic Party has in America's defeat. Although the political pundits may be predicting that Hillary Clinton will be our next president, we refused to believe that the American people will select as commander-in-chief a sixties liberal who condones the labeling of our top general in Iraq a traitor."

Democratic presidential candidates Barack Hussein Obama and John Edwards have also failed to criticize the Moveon.org advertisement.

W Ketchup salutes our brave soldiers and the officers who lead them. W Ketchup donates a portion of every purchase to the Freedom Alliance Scholarship Fund, which helps fund college tuition for the children of America's fallen heroes.





Founded in 2004, W Ketchup™ is a private company that makes ketchup in America solely from ingredients grown in the USA and does not support any liberal agendas. Unlike other leading brands, W Ketchup does not own any subsidiaries that harm dolphins. For more information contact 1-866-WKETCHUP, or write to 954 Lexington Ave, #236, New York, NY 10021-5013.