FOR IMMEDIATE RELEASE
For media inquiries contact Bill Zachary (917) 733-3038

Democrat Corruption Thickens with Accusations against Senator Feinstein
Eagle Bridge, NY — May 15, 2007 — Senator Diane Feinstein served as the ranking Democrat on the Senate Military Construction, Veterans Affairs, and Related Agencies sub-committee from 2001 to 2005. During that time, Feinstein directed more than $1.5 billion in federal contracts to two companies controlled by her husband. She resigned the position in 2005, after her husband sold his stake in the companies. The couple's current net worth is estimated at between $45 and $100 million.

According to Metro Newspapers, Sen. Feinstein's top legal advisor Michael Klein has admitted to informing the Senator as to which federal projects her husband's companies had an interest. Mr. Klein is also Feinstein's husband's business partner. One of the companies in question saw its federal revenues rise from $44 million in 2000, before Feinstein joined the sub-committee, to $331 million by 2004. By 2006, after Feinstein had left the sub-committee, federal revenues for the company had declined to $152 million.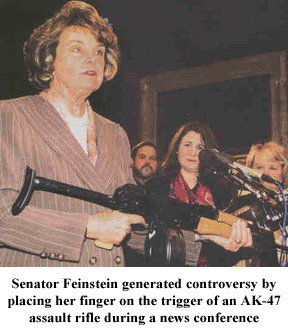 Bill Zachary, W Ketchup's chairman, commented: "We're still waiting for the Democrats to make good on their promise that this would be the most ethical Congress in history. But instead of an investigation, Feinstein received a position on the Senate Rules Committee, which is responsible for making sure Senators behave ethically."

Although the mainstream media has ignored this story, Judicial Watch, a non-profit law firm dedicated to fighting government corruption, has opened an investigation.

W Ketchup's CEO Dan Oliver noted: "The lobbying reform promised by Big Tuna Pelosi has stalled, a mere four months after the Democrats re-tasted the money and influence that power provides. While the country is better off having the Democrats on the golf course and away from Washington, we still believe that members of Congress who commit felonies should be in jail."




Founded in 2004, W Ketchup™ is a private company that makes ketchup in America solely from ingredients grown in the USA and does not support any liberal agendas. Unlike other leading brands, W Ketchup does not own any subsidiaries that harm dolphins. For more information contact 1-866-WKETCHUP, or write to 954 Lexington Ave, #236, New York, NY 10021-5013.