FOR IMMEDIATE RELEASE
For media inquiries contact Bill Zachary (917) 733-3038

Pelosi's Demand for Aircraft Shot Down
Eagle Bridge, NY — February 9, 2007 — Reports surfaced this week that Speaker of the House Nancy Pelosi has demanded the Pentagon assign a large military jet to shuttle her and her contributors across the country, arguing that the jet assigned to her predecessor Dennis Hastert was too small. The Pentagon reportedly denied Speaker Pelosi's request and banned contributors and supporters from the smaller airplane.

According to the Washington Times, the Pentagon this week also denied Speaker Pelosi's request to fly on a military aircraft to a Democratic retreat in Williamsburg, VA, a two hour drive from Washington DC. In response to the Pentagon's refusal to provide what Minority Whip Roy Blunt labeled the "flying Lincoln Bedroom," -- a reference to President Clinton's policy of allowing wealthy, liberal campaign donors to stay at the White House -- Rep. John Murtha (D-Penn), chairman of the House military appropriations subcommittee threatened funding to the military. Rep. Murtha has been quoted as saying that it was foolish for the Pentagon to deny Pelosi's request "since she decides on the allocations for them."

W Ketchup CEO Dan Oliver charged: "'Big Tuna' Pelosi's actions are doubly outrageous to anyone who supports the US military. First, she attempts to remove a large military aircraft from other service, and then sends her attack dogs to threaten funding for our troops. Democrats have reached new heights of hypocrisy by threatening to de-fund our troops while requesting military hardware for their weekend redeployment to Williamsburg."

Nancy Pelosi became Speaker of the House after the Democratic Party won the November elections and immediately ignited controversy by exempting American Samoa from the rise in minimum wage in what some observers claim was a political favor to Del Monte, which is headquartered in her district. Speaker Pelosi is reportedly worth over $25 million. Her father was Mayor of Baltimore for twelve years.

Bill Zachary, Chairman of W Ketchup, commented: "Speaker Pelosi has shown how antiquated the term 'limousine liberal' is, since liberals now prefer to travel by private jet. We find it ironic that a woman who promised to clean up Washington from Republican abuse of perks is complaining that her airplane is too small. We suggest she be given her own private railcar, since it would produce fewer gasses, and Amtrak is the quintessential inefficient, failed government program eating up more than $1 billion in subsidies each year."

The most recent case of a political leader being denied a private jet occurred in 2002 when King Mswati III of Swaziland, the last absolute king in Africa, attempted to use 25% of the national budget to buy a $50 million jet. At the time, the Natural Resources Minister Magwagwa Mdluli told drought victims: "The king needs the plane to get food for you." King Mswati reportedly has 13 wives, 3 fiancées, and 27 children. Speaker Pelosi reportedly has only one spouse and five children.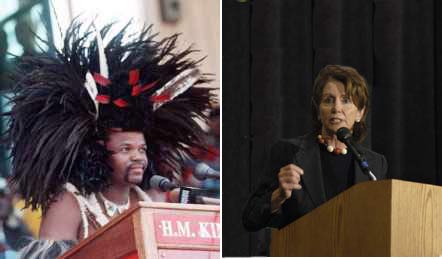 Other notable users of private jets include failed presidential candidate John Kerry, who makes extensive use of his wife Teresa Heinz's jet called the Flying Squirrel, and Al Gore who crisscrossed the country in private jets to promote his movie about the environmental danger of greenhouse gases. A private jet uses more fuel in an hour than a car does in a year. Yesterday, Speaker Pelosi called for mandatory restrictions to reduce US greenhouse gas emissions by half.



Founded in 2004, W Ketchup™ is a private company that makes ketchup in America solely from ingredients grown in the USA and does not support any liberal agendas. Unlike other leading brands, W Ketchup does not own any subsidiaries that harm dolphins. For more information contact 1-866-WKETCHUP, or write to 954 Lexington Ave, #236, New York, NY 10021-5013