FOR IMMEDIATE RELEASE
For media inquiries contact Bill Zachary (917) 733-3038

W Ketchup™ Sends Ketchup to Kerry
Eagle Bridge, NY — August 3, 2006 — W Ketchup announced today it has sent 4 bottles of delicious W Ketchup to the office of failed presidential candidate John Kerry. W Ketchup took this move in response to media reports that attendance at Kerry's last political rally in Iowa was sparse.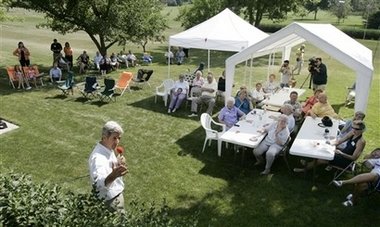 W Ketchup's CEO Dan Oliver stated: "We may not agree with Mr. Kerry's political views, but it's sad when someone has a picnic and no one comes. We think if he had some delicious W Ketchup instead of some other brand, more people might enjoy his parties. We donated 4 bottles because we wanted to make sure that he would not run out on his next rally. We allocated 2 bottles for his supporters, and 2 bottles for the press." Unconfirmed reports suggest that Kerry chose to eat a candied apple rather than stomach the harsh, vinegary taste of W Ketchup's leading competitor.
W Ketchup was founded to give Americans a choice of ketchup, and a choice not to support Heinz, Teresa Heinz, and John Kerry. W Ketchup is made for Americans, and is sold only in America.
The only organization W Ketchup donates money to is the Freedom Alliance Scholarship Fund, which provides scholarships for the children of service members killed in the line of duty.
To order delicious W Ketchup, please visit our website at:
/ketchup/
Founded in 2004, W Ketchup™ is a private company that makes ketchup in America solely from ingredients grown in the USA and does not support the Democratic Party and its liberal agenda. For more information visit www.wketchup.com, call 1-866-WKETCHUP, or write to 954 Lexington Ave, #236, New York, NY 10021-5013.